Artist Bio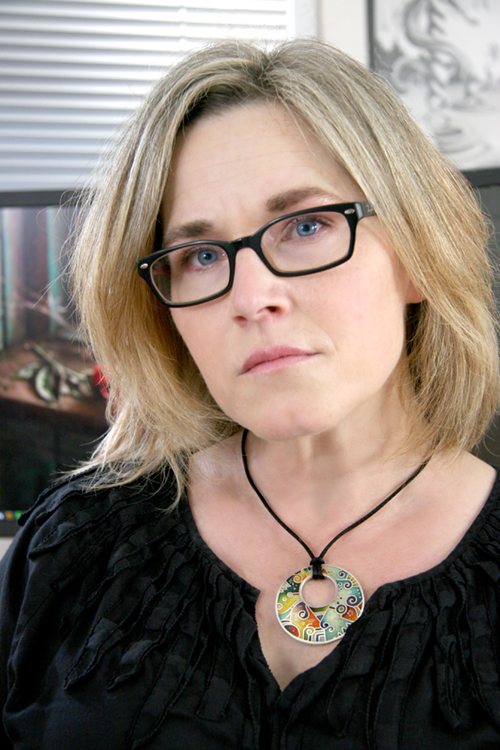 Liz is passionate about colorful jewelry, winning multiple prestigious international jewelry design awards. She founded Liz Sabol Jewelry Art in 2013 and best known for her avant-garde champleve technique. Liz is also a mom of two and practicing graphic artist since 1992.
Liz Sabol studied Chemical Engineering and Art & Design at West Virginia University. She continued her education at the Art Institute of Pittsburgh in Communication Arts & Illustration. Though a relative newcomer to the jewelry world, she is a veteran in design and graphic arts.
The eldest of seven children, Liz grew up on a dairy farm in Western Pennsylvania where she cultivated a lifelong love of nature, art, and design. She nurtured that sensibility through the study of concert piano, chemical engineering, fine art, design, and technology.
After a successful 25-year career in branding and corporate marketing, she found herself restless and sought new ways to express her artistic vision. In 2011, she experimented with intricate bead work, transitioned to the hypnotic experience of lampworking glass, and then began an exploration into metal in 2013. That journey led to a discovery and harmony she has achieved with a combination of technology and her signature organic forms. Inspired by fairy tales, fantasy and mysticism, each Champlevé piece is hand-painted and protected by resin, and hints at her love of oil painting.
By combining metal with media and techniques not traditionally used in jewelry, Liz brings a different and unique perspective to metal.
Awards
Saul Bell Design Award, Finalist, Alternative Materials, 2020, Albuquerque NM, USA
AMCAW Sea and Sky Challenge, First Place, Jewelry, 2019, International
Saul Bell Design Award, Second Place, Jewelry Collection Fashion/Bridge, 2019, Albuquerque NM, USA
Saul Bell Design Award, Second Place, Jewelry Collection Fashion/Bridge, 2018, Albuquerque NM, USA
Saul Bell Design Award, Second Place, Metal Clay, 2017, Albuquerque NM, USA
Saul Bell Design Award, Finalist Metal Clay, 2016, Albuquerque NM, USA
Beverly Hills Art Show, First Place, Jewelry, October 2018, Beverly Hills CA, USA
Centurion Emerging Designer Competition, Finalist, 2019, Merrick NY, USA
MJSA Journal, Online Design Challenge, Winner, 2017, USA
A'Design Award, Silver Award Winner, Jewelry, Eyewear and Watch Design Category, 2017, ITALY
A'Design Award Winner, Jewelry, Eyewear and Watch Design Category, 2016, ITALY
Associated Artists of Butler Annual Invitational, Honorable Mention, 2016, Butler PA, USA
A Fair In the Park, Larry Berman Photography Award, 2015, Pittsburgh PA, USA
Exhibitions
Sweetwater Center for the Arts, Statement Pieces, 2019, Sewickley PA USA
Jodee Harris Gallery, Seton Hill Univ, Solo Exhibition, 2018, Greensburg PA USA
Albuquerque Museum Foudation, ArtsThrive, 2018, Albuquerque NM USA
Associated Artists of Pittsburgh, New Member Exhibition, 2018, Pittsburgh PA USA
Pole Bijou Gallery, International Metal Clay Exhibition, 2017, Baccarat FRANCE
Butler Art Center, Annual Invitational Show, 2016, Butler PA USA
Butler Art Center, "Metalworks" Exhibition, 2015, Butler PA USA
In the Press
CreativeFire Artist Project Series, Sep 6 2017, USA
Fox Chapel Living, Business Beat, Jun 2016, USA
Artisan Times, Focus on Fabulous, Jun 2016, USA
Metal Clay Artist Magazine, Annual Mixed Media Issue, Sep 2013, CANADA
Memberships
International Society of Glass Beadmakers, Pittsburgh Chapter, USA
Certifications
Rio Grande PMC Certification